Club Secretary
Staff member
Board of Directors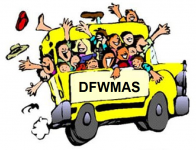 Spring 2023 Bus Tour - SAVE THE DATE - North DFW Metroplex Five LFS Tour
FREE EVENT
8:45am meet Odyssey Pets parking lot special area
9:00am meet Odyssey Pets
10:00am motorcoach arrival Odyssey Pets parking lot special area
10:10am leave Odyssey Pets on motorcoach
10:25am arrive Dallas North Aquarium
11:35am leave Dallas North Aquarium
11:55am arrive Big Little Fish Store
lunch donated by Big Little Fish Store​
1:15pm leave Big Little Fish Store
1:50pm arrive Rift 2 Reef Aquatics
3:00pm leave Rift 2 Reef Aquatics
3:25pm arrive Aquastudios Aquariums
4:35pm leave Aquastudios Aquariums
5:00pm arrive Odyssey Pets parking lot special area
5:10pm motorcoach leaves Odyssey Pets parking lot
More information, marketing flyers, etc will be coming and there will be other threads. Signup will be in Premium area, but free event. Event, lunch, drinks (water, soda, beer), and snacks are included. No glass allowed on bus (bus rule).
If you would like to upgrade from free to Premium member (grandfather in at just $25/annual), go:
This is a link to last year's bus tour on south DFW metroplex:
Older bus tours recap videos also out on club youtube channel. Please consider subscribing to club YouTube channel if you haven't already.
Purpose of this thread is so those that like to plan ahead know to block that Saturday April 29th.
This thread is locked.
Last edited: