Administrator
Staff member
THANK YOU WONDERFUL VOLUNTEERS!!! You helped make Aquashella a wonderful experience for so many (and you all seemed to have a lot of fun, too)! Your hobby club appreciates you so very much!! (hearts) (hugs)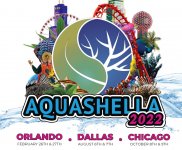 DALLAS MARKET HALL
2200 NORTH STEMMONS FREEWAY
DALLAS TX 75207
Like last Aquashella, we are seeking 15-20 hobby club volunteers to help Aug 6 and Aug 7 any of below: Seeking extras in case life happens and someone can't volunteer at last moment. Volunteers needed for:
Aquashella itself
hobby club table
wherever most needed
Greatest need will likely be Aquashella registration and light security both Saturday morning thru afternoon and Sunday morning thru afternoon. By supplying volunteers, hobby club receives discounted table rate for our DFWMAS table. Aquashella volunteers will need a smart phone and ability to add an app to smartphone (may be same app from 2021).
Volunteers should target arrival 8:30am Sat/Sun to ensure you find Sat/Sun 9am training location by 9am.
Our volunteers helping Aquashella last year also got cool staff t-shirt in addition to meeting lots of fun people from around country!
Our hobby club DFWMAS booth lets you meet lots of fun people from around country! Handout drinks, snacks, club water parameter business card, club salinity car decal, and Reef Hobbyist magazines!
Please sign-up below if you are interested in helping both/either day (please indicate day(s)).
1
@Fish Think Pink
Lisa K (Sat & Sun, Aquashella)
2
@wnewsom
Wes (Sat morning & afternoon)
3
@winky8888
Ron Nidel (Sunday all day)
4
@raullozano3
Raul (Sat morning & afternoon)
5
@hnurge
Hans (Sat & Sun, where needed)
6
@hnurge
Cheryl (Sat & Sun, where needed)
7
@Aj
Sun morning & afternoon, where needed
8
@hnurge
Alia (Sat morning & afternoon)
9
@Cedar Hill
Sonya (Sat & Sun, where needed)
10
@wnewsom
Angelina (Sat, maybe Sun)
12
@Illini_Fan
Tom (Sun morning)
13 Kamil (Sat and maybe Sunday)
14
@Cameron
(Sat and maybe Sunday morning)
15
@Eileen L Ellison
Eileen (Sat and Sun morning)
17 Scott F (Sat morning)
18
@Drex
20 karen (Sat)
THANK YOU WONDERFUL VOLUNTEERS!!! You helped make Aquashella a wonderful experience for so many (and you all seemed to have a lot of fun, too)! Your hobby club appreciates you so very much!! (hearts) (hugs)
Last edited: