Club Secretary
Staff member
Board of Directors
On a whim, I am starting amphipod culture today. Lifting rock out of tank into bowl, I noticed it was a rare opportunity to catch random amphipod that came in on live rock years ago. Further examination, I had TWO! Then THREE!! Practically Amphipod Palooza !!!
While different amphipods likely have different needs, just like different copepods, I hope combination of luck, research and suggestions will bring success. Though only time, trial and error will determine if this will be a viable experiment, this is my copepod example thread where I've built experiences (which may or may not be useful):
2nd attempt at raising tig pods is officially underway. Original attempt was outdoor lazy banana leaf method I found online - that is still underway but seems to be failing. Suspect Texas temperature and full day direct sunshine is too much, but that pod culture experiment still underway. 2nd...

forum.dfwmas.org
In this below photo, you see my algae and coralline covered sun coral 'food bowl home' after sun coral and its rock removed. I also removed 4 small bristle worms before taking this photo. Left in this plastic container, as well as visible under plastic container as water has spilled out into bowl, there are many items. There are several amphipods. There are multiple copepods, not limited to species cultured so those also came in years ago on live rock.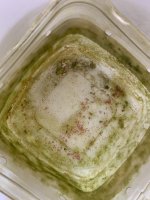 In this photo, I've taken water from above photo, as well as some additional tank water to get culture started. This weekend I will add freshly mixed saltwater. My tank nitrates are at 26, so I would prefer to begin this culture with lower number, so having about half freshly mixed saltwater is one way to bring this number down (and hopefully they survive that upcoming parameter swing).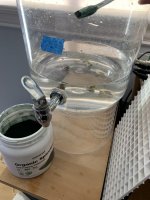 Above photo top, you can see a portion of spirulina being added. I'm hopeful amphipods may eat spirulina, though initially everything that was in bowl has been added to culture, so it may be weeks until I know if spirulina works. I recognize there is a chance some of the copepods I culture for mandarin and dragonet may have to be repurposed to feed this amphipods culture, as copepods are smaller and therefore possible food. I'm going to start with spirulina.
I've upgraded from tree sticks to acrylic rods, and I plan on using rod to stir culture. If I didn't already have spare rod, I'd be out in side yard seeking small branch fallen from tree. Eventually I may add airstone for minor flow but it is not happening today.
I already know from experience that my tank's amphipods do not like light and prefer to be in or under something. Therefore I've added rubble but I intend to check my existing rock stash and add more. These loose random small rocks may help amphipods feel more relaxed, and a happy pod may be a breeding pod.
In this first setup photo with top down view, you can see original culture stock, original rocks, original pink acrylic rod, and original banana peel ((banana skin).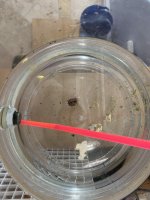 Banana peel is being added with assumption potassium is needed for breeding. There are copepods in with amphipods, so something will benefit if not all. In above photo, if the beverage container being used for culture were a round clock, and then if pink rod at spigot were about 9:00 then banana peel is floating at about 11:00. Given this is a top down view, you may not realize banana peel is floating as it could be mistaken for small yellowish rock in above photo.
More to follow as culture progresses. Fingers crossed!