Club Secretary
Staff member
Board of Directors
2nd attempt at raising tig pods is officially underway.
Original attempt was outdoor lazy banana leaf method I found online - that is still underway but seems to be failing. Suspect Texas temperature and full day direct sunshine is too much, but that pod culture experiment still underway.
2nd attempt is indoors using tiny 2.5g tank I picked up this weekend from Dallas North Aquarium. Added 2 bottles of tig pods, 2"x1.5" banana skin, new clean saltwater, poured 1 capsule of spirulina powder, started with 300ml live phyto, repurposed my refugium sump light (5k LED $3.50 light - thanks Melev's Reef for tip!), little bit of tape to track water level and fingers crossed!
This morning pods were all over, but once light turned on, pods are all clustered along top... is it for light (probably)... is it for oxygen (did not add air stone purposely, based on other outdoor pod culture experiment's directions)...
Buy my live phyto cheap from online guy - would LOVE local someone if you make extra phyto then PM me - hate that shipping companies are making so much money with people not buying local. I'd be glad to support someone local, even if just 1x buy. I am getting mixed species phyto as my usual purpose for it is trying to out-compete green hair algae but don't know that pods or main tank care what species I use.
Welcome advice and comments.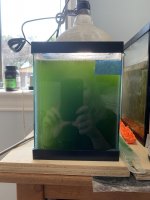 Last edited: