Club Secretary
Staff member
Board of Directors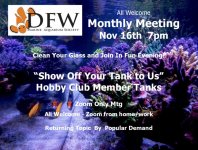 Returning for the 3rd time by popular demand, its the Annual "Show Off Your Tank" Club Meeting!
Clean your glass, turn up your white lights, and use your laptop or phone camera to share your aquarium live with other members!
Topic: DFWMAS 'Show Off Your Tank' Club Meeting
Time: Nov 16, 2023 07:00 PM Central Time (US and Canada)
Join Zoom Meeting
Zoom is the leader in modern enterprise video communications, with an easy, reliable cloud platform for video and audio conferencing, chat, and webinars across mobile, desktop, and room systems. Zoom Rooms is the original software-based conference room solution used around the world in board...
us06web.zoom.us
Meeting ID: 823 1552 5996
Passcode: 531709
---
One tap mobile
+13462487799,,82315525996#,,,,*531709# US (Houston)
+17207072699,,82315525996#,,,,*531709# US (Denver)
---
Dial by your location
• +1 346 248 7799 US (Houston)
• +1 720 707 2699 US (Denver)
• +1 253 205 0468 US
• +1 253 215 8782 US (Tacoma)
• +1 669 444 9171 US
• +1 719 359 4580 US
• +1 301 715 8592 US (Washington DC)
• +1 305 224 1968 US
• +1 309 205 3325 US
• +1 312 626 6799 US (Chicago)
• +1 360 209 5623 US
• +1 386 347 5053 US
• +1 507 473 4847 US
• +1 564 217 2000 US
• +1 646 558 8656 US (New York)
• +1 646 931 3860 US
• +1 689 278 1000 US
Meeting ID: 823 1552 5996
Passcode: 531709
Find your local number:
https://us06web.zoom.us/u/kbobOHnuOb
Last edited: