Club Secretary
Staff member
Board of Directors
CRAZY !! Anyone else ever have/see/heard of this below?!
I turned on my tank light to quickly double check my tank temperature because of tonight's first really cold night, and I caught my flame scallop hanging wide open by its foot, halfway up glass - reminding me of some overly drunken party reveler hanging off light pole, shirtless and perky wearing marti gras beads!!! My flame scallop is always under a rock with its 'whiskers' out, doing calm family style filter feeding. Filter feeding was at a WHOLE DIFFERENT LEVEL tonight. I've a peppermint and skunk shrimp that never ever seem to sleep (day or night) so that scallop should know there is no 'safe' time in aquarium (though... fish are sleeping).
After catching it, I turned light back off, ran to find camera, came back and turned light back on only to find it completely closed lying on the sand bottom as if I imagined the whole experience... "nothing going on here... lol"
Not until tonight did I know my flame scallop has a wild side! Do they all? Do I need to do this sneak nighttime check to catch this on camera?
Why do I feel like the parent just catching my teenager up to no good?! If I had not seen it with my own eyes, I wouldn't have believed it could open that much and do what it did... wow... think I have some phyto I will put in there for it right now... maybe it is extra hungry... maybe it is crazy... but I'm no longer worrying about tank temperature tonight - its getting hot in there - LOL - curious if this is normal flame scallop behavior and I just sleep thru it...
Apologies if this isn't the right area of marine life for scallop discussion but everything else didn't fit.
This photo is similar, but lacks showing both shells open wide/flat against glass - more flexible than yoga master!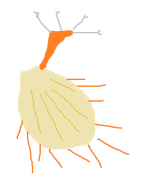 Thoughts?
Last edited: