Club Secretary
Staff member
Board of Directors
2022 outstanding sponsor recognition goes to Dinkins Aquatic Gardens!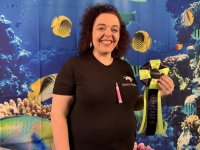 Be sure to support this awesome Flower Mound local online sponsor (they ship nationwide):
While a new sponsor partner to hobby club, they've provided discounts and at Fall DFWMAS Frag Swap gave free products/gift certificates to members qualifying Dinkins for Gold DFWMAS Appreciation ribbon - just since their approval as sponsor on 11/2! Looking forward to many years partnership with Dinkins Aquatics Gardens and given what a powerful 2022 start, I expect to see Dinkins up at Platinum DFWMAS Sponsor level by end of 2023!
This Dinkins Aquatic Gardens partner/sponsor area has just been setup, but earlier I posted their recognition over here as a placeholder: