Club Secretary
Staff member
Board of Directors
2022 outstanding sponsor recognition goes to Dinkins Aquatic Gardens!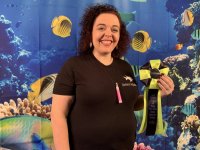 Be sure to support this awesome local online sponsor (they ship nationwide):
Dinkins Aquatic Gardens, Flower Mound, Texas. Отметки "Нравится": 5 048 · Обсуждают: 288 · Посетил 1 человек. Make your corals think they never left the ocean with Dinkins Aquatic Gardens live food...
www.facebook.com
While a new sponsor partner to hobby club, they've provided discounts and at Fall DFWMAS Frag Swap gave free products/gift certificates to members qualifying Dinkins for Gold DFWMAS Appreciation ribbon - just since their approval as sponsor on 11/2! Looking forward to many years partnership with Dinkins Aquatics Gardens and given what a powerful 2022 start, I expect to see Dinkins up at Platinum DFWMAS Sponsor level by end of 2023!
Club is very excited to announce and WELCOME four new additional sponsors: A Klein Reef Dinkins Aquatics Garden The Coral Station (opening January) Ultimate Corals Specials and offerings will be in Forum Premium Members area until we get our Forum updated to include these new sponsors. Over...

forum.dfwmas.org
Dinkins Aquatic Gardens President Ashley Dinkins featured in above photo, taken at 12/2 Odyssey Pets' Fish Rave. You may also stop by Dinkins tables at other events - in 2022 spotted their table at Reef A Palooza, Aquashella, ... just to name a few other places! But don't wait, shop online (links above)! This is a family owned DFW Flower Mound based business, and it is exciting to see local businesses doing well.
Last edited: