Club Secretary
Staff member
Board of Directors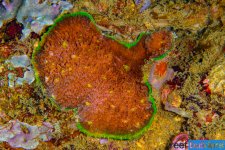 VINCENT CHALIAS
7 HOURS AGO
While diving in North Sulawesi, we came across a fantastic small colony of
Oxypora lacera
, the Watermelon Chalice. While this color morph is
quite common in Australia
, it's quite rare in Indonesia.
The very ornamented costae running in between corallites is a classic feature of Oxypora.
The perfect red colony color, with a green growth edge, gave it the Watermelon name. But the gold polyp mouth is really a great additional feature.
For the full article, please go to:
While diving in North Sulawesi, we came across a fantastic small colony of Oxypora lacera, the Watermelon Chalice. While this color morph is quite common in Australia, it's quite rare in Indonesia.